R4i gold pro 2019
The latest R4i Gold Pro 3DS card. With full support for the latest 11.10.0-43 Updated 3DS, 3DS XL, 2DS as well as the DSi and DS Lite consoles. Play games, read eBooks, run the latest homebrew games and applications and turn your Nintendo 3DS into a full fledged media player. Play retro games with emulators for NES, Super NES, TG16, Neo Geo, C64 and dozens more!

R4i gold pro News:
2019-05-27 R4I-GOLD PRO Cards support 3DS V11.10.0-43 directly.

2018-12-03 R4I-GOLD PRO Cards support 3DS V11.9.0-42 directly.

2018-08-20 R4I-GOLD PRO Cards support 3DS V11.8.0-41 directly.

2017-09-19 R4I-GOLD PRO Cards support 3DS V11.6.0-39 directly.

2017-04-11 R4I-GOLD PRO Cards support 3DS V11.4.0-37 directly.

2017-02-08 R4I-GOLD PRO Cards support 3DS V11.3.0-36 directly.
Product Features
Cooperated with wood firmware developing team,it is the first one to update wood kernel and be compatible with the latest games

The First Card Supports 3DS /3DS XL /2DS 11.10.0

The world's first host system to support the DSi /DSi XL upgrade to V1.45

Compatible with all DS editions of different kinds of language

Supports DSL / DSi / LL / XL

Supports Action Replay cheat

DLDI auto-patching

Supports SDHC (Micro SD 4G,8G,16G,32G)

2nd generation storage device (no booting tool required)

Flush fitting slot 1 card

Uses MicroSD card, FAT16 or 32

Supports any MicroSD card speed with no lag in game

Supports Clean ROM, drag and drop. Works on any OS

Built in NoPass

Automatically detect save type

Save directly to MicroSD card, not to onboard chip

Supports Moonshell and other homebrew.

User friendly skinnable interface. Touchscreen or button operation

Supports rumble pak and memory pak

Supports the WiFi game, DS Rumble Pak, DS Browser

Supports changes of the background of Operation Interface

Support Skin DIY by setting background and font colors on Main Menu and Game Menu manually and automatically

Supports 4-scale-lightness adjustment ( DS Lite only )

Supports the Soft Reset.

moonshell 2.10 support Software Reset function( Press START key back to the R4 menu
R4isdhc gold pro Tutorial
Setup the R4i gold pro 2019 flasch card, you need a microsd card, an usb card reader and a genuine R4isdhc gold pro card from us. By using the micro sd card reader/adapter, connect your micro sd card with computer, open the file.
A.Upload game kernel: Copy the all of the files (R4.dat,R4iMenu,moonshel2,moonmemo) to your micro sd card.

B. Upload game roms: Copy the xx.nds to the root folder of the micro sd card.

C. Open you 3DS/2DS/DSi/DS, enjoy the games.
Firmware or Kernel
The latest firmware or kernel for R4i gold pro 2019 is v4.0b, you can download from here directly, choose the language you want. Only by downloading v4.0b firmware or kernel you can start to use R4i gold pro 3ds card on your NDS or 3DS system device. Always make sure you install the right kernel to use for an R4i 3ds card!
R4i gold pro 3ds Functions
Support Wi-Fi

Work on Nintendo 3DS/2DS/3DS XL/2DSXL/NEW 3DS XL/DSi XL / DSi / DS Lite / DS to play NDS games.

Support NTRboothax to install B9S/Luma 3DS CFW.

Play music

Read e-Book and view pictures

Watch movies
What is included?
1 x R4isdhc gold pro 2019 card

1 x USB Micro SD(TF) reader/writer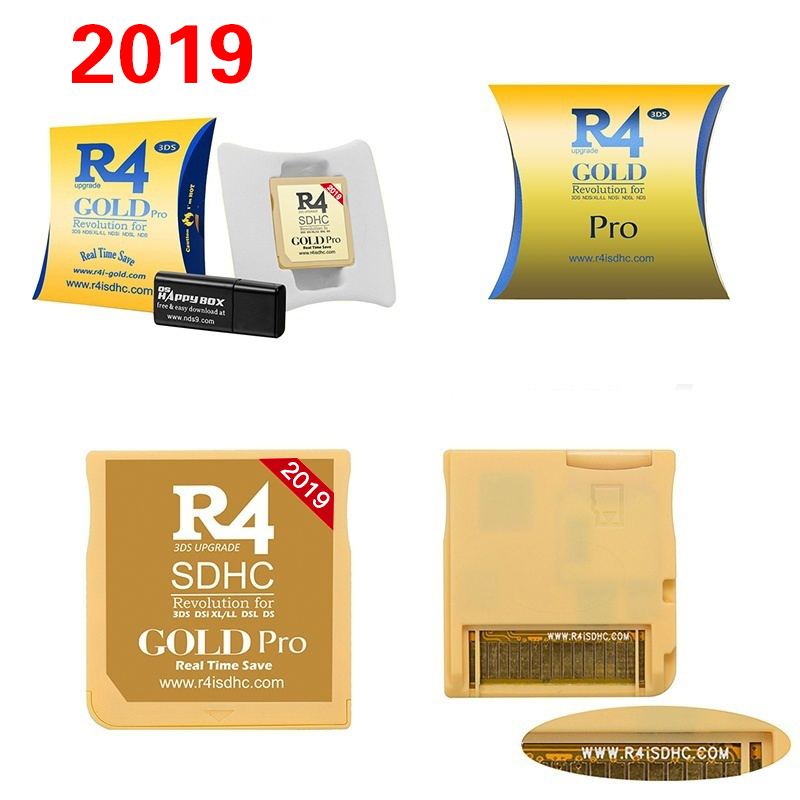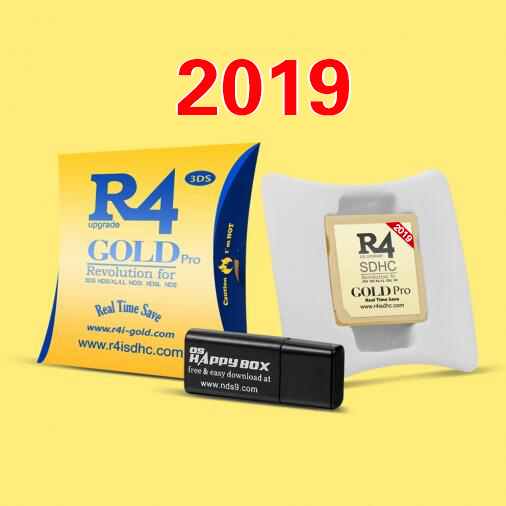 About Logistics
1.ePacket Worldwide Shipping From China $3.99
(Delivered within 7-25 working days. The specific signing time is based on the logistics situation of each country,Free shipping on orders over $20)
2.DHL Express from China $27.00
(DHL Express, delivery in 5-9 Working Days!)
3.YW express from China $ 3.99

We ship from China to your hands, it takes 6-10 working days !

About payment
We support credit card payment and our paypal payment, If there is any payment problem, please find us by email or online chat.
Note that we do not support credit card payments in the following regions:
United Arab Emirates、Barbados、 Antigua and Barbuda、Argentina、Azerbaijan、Bangladesh、Bahrain、 BermudaIs、 Brazil、 Bahamas、Chile、 South Africa、 Costa Rica、Cyprus、Algeria、Dominica Rep、Ecuador、GP、 Guatemala、 Guyana、 Hongkong、HR、Kenya、 Kuwait、 Sri Lanka、Lithuania、Monaco、 Macao、MQ、Malta、Mexico、 Malaysia、 Oman、 Peru、 Qatar、 Saudi Arabia、Slovenia、 Slovakia、 Salvador、 Syria
If you have an Order failed reply from our site, that means your credit card isn't supported or the issuing bank decline the payment, so you can contact us to pay via paypal.you can choose paypal payment, send the email or contact the online customer service to provide the order number. We will provide our paypal information to help you complete the order. The whole process is very safe and convenient.