Ace3DS X for NTRboot and DS games
Ace3DS X, one new flashcard supports both DS games and 3DS CIA games(After install CFW/B9S via NTRboot). Ace3ds has a small button on the right side which can be used to switch between DS mode and 3DS mode.
When in 3DS mode, Ace3DS X is pre-flashed by NTRboothax and you can use it to install B9S/ 3DS CFW on all 3DS consoles models & versions.
When you switch to DS mode, Ace3DS X acts as an Ace3DS Plus and supports ds games greatly, no flashing is required. We have enough Ace3DS X in stock, can be send to any country of the world(United Kingdom, Ireland, Canada, Australia, New Zealand, United State and more).
Ace3DS X Compatibility
Ace3DS X in 3ds mode supports Nintendo New3DS/New3DSXL/3DS/3DSXL/2DS/2DSXL with any firmware version, including the latest firmware V11.10.0-43

Ace3DS X in DS mode supports New3DS/New3DSXL/3DS/3DSXL/2DS/2DSXL/DSiXL/DSi/DS/DS lite with any firmware version
Ace3DS X Pros
Hardware: Ace3DS X has a small switch for changing between 3DS mode and DS mode

Firmware: Ace3DS X uses the Wood firmware, version number is V1.62. You can also download AOS V2.13 as firmware too.

(In 3DS mode)Pre-flashed NTRBOOT, supports installing boot9strap and then playing 3DS CIA games on New3DS/New3DSXL/3DS/3DSXL/2DS/2DSXL with any firmware version including 3DSv11.10.0-43

(In DS mode)Includes all the features of ace3ds plus and supports ds games on New3DS/New3DSXL/3DS/3DSXL/2DS/2DSXLV11.10.0-43, DSiXL/DSiV1.45 and DS/DS lite

Supports microSD card in FAT32 and up to 32GB

One microSD card is needed for Ace3DS X when installing boot9strap to 3DS
Why buy Ace3DS X Card ?
Ace3ds X can be used to play both NDS and CIA 3DS games, no timebomb.

Ace3DS X flashcart can supports 3ds/2ds V11.10.0-43 and DSi v1.45 directly.

This is the new generation of Ace3DS Card.

It can work well on all N2DSXL/N3DSXL/3DSXL/3DS/NDS/NDSXL/DSi/DSi xl consoles.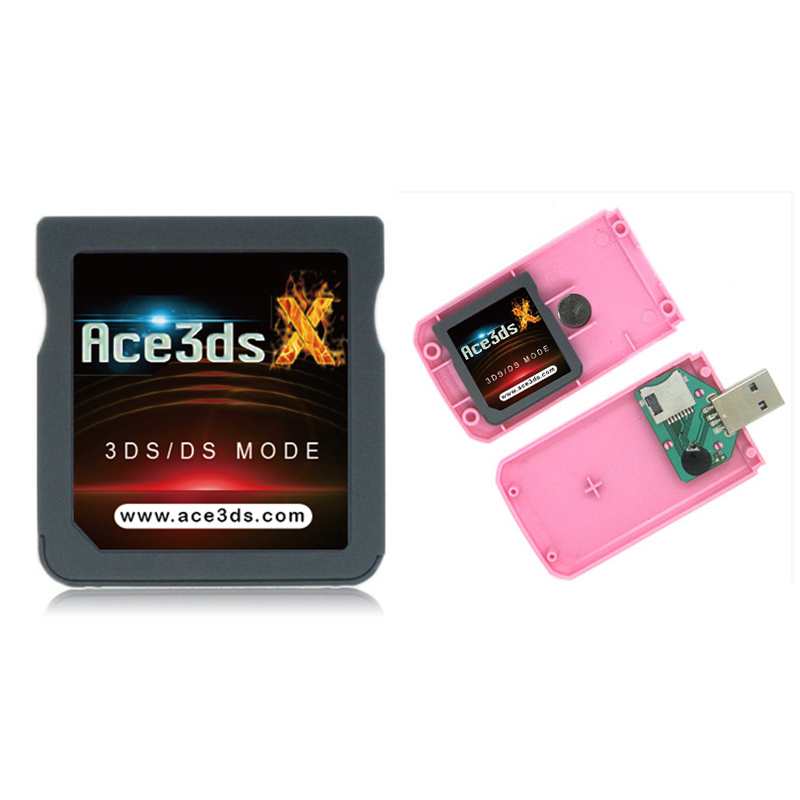 About Logistics
1.ePacket Worldwide Shipping From China $3.99
(Delivered within 7-25 working days. The specific signing time is based on the logistics situation of each country,Free shipping on orders over $20)
2.DHL Express from China $27.00
(DHL Express, delivery in 5-9 Working Days!)
3.YW express from China $ 3.99

We ship from China to your hands, it takes 6-10 working days !

About payment
We support credit card payment and our paypal payment, If there is any payment problem, please find us by email or online chat.
Note that we do not support credit card payments in the following regions:
United Arab Emirates、Barbados、 Antigua and Barbuda、Argentina、Azerbaijan、Bangladesh、Bahrain、 BermudaIs、 Brazil、 Bahamas、Chile、 South Africa、 Costa Rica、Cyprus、Algeria、Dominica Rep、Ecuador、GP、 Guatemala、 Guyana、 Hongkong、HR、Kenya、 Kuwait、 Sri Lanka、Lithuania、Monaco、 Macao、MQ、Malta、Mexico、 Malaysia、 Oman、 Peru、 Qatar、 Saudi Arabia、Slovenia、 Slovakia、 Salvador、 Syria
If you have an Order failed reply from our site, that means your credit card isn't supported or the issuing bank decline the payment, so you can contact us to pay via paypal.you can choose paypal payment, send the email or contact the online customer service to provide the order number. We will provide our paypal information to help you complete the order. The whole process is very safe and convenient.